Umbria is comparatively neglected by tourists and other visitors who head for Florence but much less often for southern Tuscany and its southerly neighbour, Umbria. Here we provide some information that should help guide visitors on what to see in Umbria. Our video gives a hint at the many things to see in Umbria. The information and links below give more detailed information on the main sights of interest to visitors to Umbria. We look forward to seeing you here!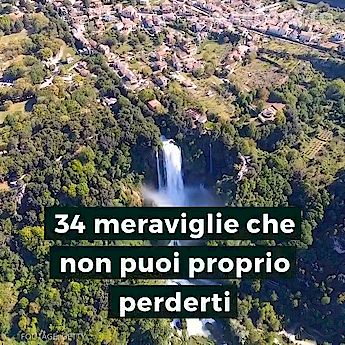 Click the image above for our 3 minute video introducing
34 marvels of Umbria that you should not miss seeing.
In Italy, Umbria is second only to Tuscany in terms of historical hills towns and beautiful countryside. Along with Tuscany and Sicily, Umbria has sizeable cypress forests in addition to pine and chestnut. In addition, Umbria is easy to reach from the big tourism hubs of central Italy and yet relatively uncrowded even at the height of the tourism season. It has good train and bus connections. All of the towns of Umbria are relatively small and yet they are the home of world-class museums and the remains of Roman Umbria the equivalent of which are essentially absent in Tuscany. Etruscan remains in Umbria are on a par with those of Tuscany. The Renaissance was undoubtedly born in Tuscany but it flowered equally in Umbria where every town, even when its character is essentially mediaeval, is the home of wonderful Renaissance architecture. And, like every region of Italy, Umbria has its own cuisine and not a few towns known for their specialities, Norcia being the most famous. Umbria offers a range of enjoyable annual fairs, events, sagre and feste.
The principal places to visit and things to do in Umbria, Italy:
Assisi, Umbria
Assisi is very popular and therefore sometimes crowded, but rightly so. The popularity of Saint Francis has meant that over several hundred years splendid churches and related structures have been created in Assisi and filled with wonderful frescoes and paintings. Assisi also offers a first rate mediaeval festival, the Calendimaggio Festival, taking place shortly after 1 May. There are also a number of Roman structures in Assisi that, in any other town, would be major attractions in themselves.
More about Assisi.
Cittą della Pieve, Umbria
Cittą della Pieve is located close to the Tuscan boundary and can easily be visited from Chiusi in Tuscany as well as from your base in Umbria. Cittą della Pieve was a major producer of bricks and therefore, unusually for central Italy, almost all of its buildings are of brick. It is most famous as the birthplace of Perugino and some of his most famous works may be seen here. The Palio dei Terzieri, one of the best of the annual folkloric events in Umbria and Tuscany, takes place during several days of August and is well worth seeing.
More about Cittą della Pieve.
Deruta, Umbria
Deruta is justly famous for its hand-painted ceramics. The local clay is good for ceramics, and pottery production is documented from the Early Middle Ages. Artistically, Deruta majolica attained its artistic peak in the 15 C and the early 16 C, with highly characteristic local styles, such as the "Bella Donna" plates. The lack of anything other than wood fuel enforced low firing temperatures, but from the beginning of the 16 C, Deruta compensated with its metallic lustre glazes in golds and ruby red. In the 16 C, Deruta produced the so-called "Rafaellesque-ware", decorated with fine arabesques and grotesques on a white ground and named after Raphael who originated these designs. They were probably copied by Deruta potters from popular engravings of Raphael's work.
More about Deruta.
Gubbio, Umbria
Gubbio is a decidedly mediaeval town built up the slopes of Mount Ingino with several large Roman ruins nearby. Gubbio is famous for the crossbow tournament known as the Palio della Ballestra and for the Corsa dei Ceri, which takes place on 15 May. For the Corsa, three brightly-costumed teams run from the main square in front of the Palazzo dei Consoli up the steep hillside to the Basilica of S. Ubaldo, each team carrying a statue of its saint, weighing around 280 kg.
More about Gubbio.
Narni, Umbria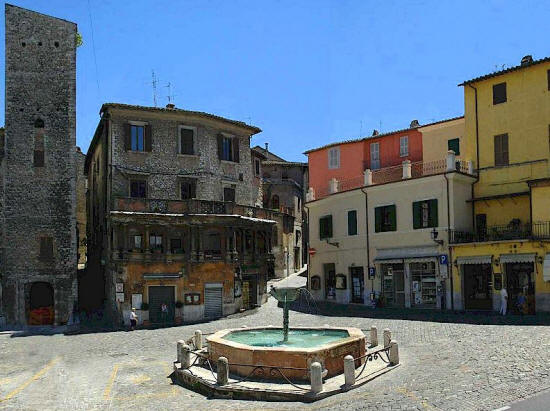 Narni has been an occupied site for at least three thousand years. From Roman times, the most spectacular remnant are the Ponte di Augusto, and the Ponte Cardona bridges, and the Formina aqueduct. Narni also offers many mediaeval structures including the Cathedral of San Giovenale, the Church of San Domenico, currently the library and the Historical Archives, and the Church of Santa Maria Imprensole (1175), jewel of Narni's Romanesque architecture. Other churches of interest are Sant'Agostino (15 C), and San Francesco (14 C). The Piazza dei Priori is the locattion of the austere Palazzo del Podestą, now the Town Hall, decorated with Roman and mediaeval marble work, a painting by Ghirlandaio, and a fresco by Lo Spagna, plus the Loggia dei Priori. The Rocca Albornoziana is a huge castle, dating from the 14 C and overlooking the town.
More about Narni.
Norcia, Umbria
Norcia is unusual among the towns of Umbria in being located in a flat basin surrounded by the domed Sybilline mountains which rise to 2,476 m. at Monte Vettore. Norcia is also comparatively spacious for a small town which makes it especially pleasurable to explore. It is the birthplace of Saint Benedict and is suitably provided with interesting and beautiful architecture. Norcia is also especially famous for its pork products. At the very least, try a plate of pork sausages and lentils during your visit.
More about Norcia.
Orvieto, Umbria
Orvieto is famous for its location on an elevated tufa plateau and for its spectacular Gothic cathedral, visible from miles around. The exceptional views commanded by Orvieto, as well as the beautiful skyline of the town itself, can be best enjoyed from the top of the 13 C Torre del Moro. Orvieto is now car-free, with access either via the funicular that runs from the railway station below up to the old town centre or by using the system of escalators dug into the side of cliff, starting from the large parking lot at Campo della Fiera. There is also a regular minibus service that covers the entire city.
More about Orvieto.
Panicale, Umbria
Panicale is a charming, mostly mediaeval, walled town about 6 km from Lake Trasimeno over which it offers a splendid view. The islands of the lake are sharply visible on a clear day. The few streets form concentric ovals that lead to the main piazza, Piazza Grande, which is the location of a fine 15 C fountain. For such a small town, Panicale has some remarkable art including two works of Perugino, one a magnificent fresco, in the Church of San Sebastiano. Panicale also has some interesting architecture in the form of the Lombard-Gothic Palazzo del Podestą and its churches. The 18 C Cesare Caporali Theatre is one of the smallest in Umbria, with 154 seats, only 20 of which are in the pit. Panicale is well-provided with accommodation and good restaurants.
More about Panicale.
Perugia, Umbria
Perugia, the capital of the region of Umbria, is arguably the foremost town in Umbria for art and architecture. It is a town of considerable charm in its own right that should not be missed by anyone interested in Etruscan history and architecture, and in High Renaissance art. Perugia is home to two universities with the result that there is a large element of "youth culture" evident, notably at night. This will be positive or negative, depending in large part on your age. The Umbria Jazz Festival is one of the most important venues for Jazz in Europe and is held usually in July.
More about Perugia.
Spello, Umbria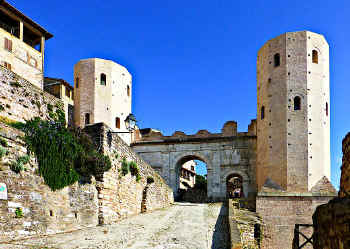 Even by Umbrian standards, Spello is characterised by an unusually large number of well-preserved Roman remains including the foundations of the circuit of mediaeval walls, three Late Antique Roman gates (Porta Consolare, Porta di Venere and the "Arch of Augustus") and traces of three more, plus remains of an amphitheatre. The architecture of the town is largely mediaeval, with several mediaeval gates, about two dozen small mediaeval churches, among them Santa Maria Maggiore, first documented in 1159 and probably constructed on top of an ancient temple dedicated to Juno and Vesta, and three fine palazzi.
More about Spello.
Spoleto, Umbria
The earliest records of Spoleto refers to the establishment of a Roman colony in the area in 241 BC. Under the Roman empire, Spoleto seems to have flourished, but it is not often mentioned in ancient history. Under the Lombards, Spoleto became the capital of the independent Duchy of Spoleto (from 570), and its dukes ruled a considerable part of central Italy. In 774 it became part of Holy Roman Empire, but by 1213 it was definitively incorporated into the Papal States by Pope Gregory IX. During the absence of the papal court in Avignon, Spoleto was prey to the struggles between Guelphs and Ghibellines, until in 1354 it was brought once more under the authority of the Papal States. In 1860 Spoleto was taken by the troops fighting for the unification of Italy.

Spoleto is located among the foothills of the Apennines and is a perfect stop for visitors to nearby Trevi, Terni and Perugia. One of the most interesting sights to visit in Spoleto is the 14 C Rocca Albornoziana, with its six large towers and beautiful interior courtyard surrounded by a loggia spread over two floors. Some of the rooms are decorated with several beautiful frescoes dating back to the 15 C. The Festival dei Due Mondi (Festival of the Two Worlds), which was initiated in 1958 and is held annually in late June / early July, has developed into one of the most important cultural events in Italy, with a three-week schedule of music, theatre and dance performances.
More about Spoleto.
Todi, Umbria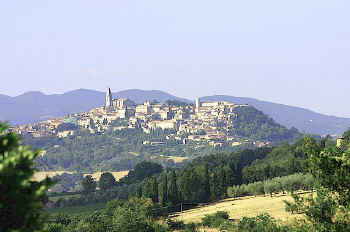 Todi is located near the River Tiber and overlooks the Tiber Valley (Valtiberina). It is a picturesque mediaeval hill town, surrounded by mediaeval, Roman and Etruscan walls. Although Todi is a hill town, its centre at the top of the hill is flat. The central piazza, originally the Roman forum, has several beautiful mediaeval buildings, including the Palazzo del Popolo, one of Italy's oldest public buildings, and the Palazzo dei Prioi has an unusual trapezoid shaped bell tower. There are Roman cisterns beneath the piazza that may be visited. The sights are close together and there are good places to linger, enjoying the views or the ambiance. The Todi Art Festival takes place in July with art exhibits, drama, opera, classical music and ethnic music performances. The Gran Premio Internazionale Mongolfieristico, an international ballooning competition, also takes place in July, with as many as fifty hot air balloons from Europe and the US participating. Carnevalandia is a big festival usually held in February. Todi can be reached easily by bus from Perugia and is well worth a visit.
More about Todi.
Lake Trasimeno, Umbria
Lake Trasimeno or Trasimene is a large (the fourth largest in Italy), not very deep lake with three islands, some of which are inhabited and can be visited. Almost the entire shoreline of the lake is accessible and the cycling track around most of it is popular due to the lack of steep inclines. The most attractive town on the lake is Castiglione del Lago.
More about Lake Trasimeno.